Robyn Archer AO
Robyn Archer AO
Robyn Archer AO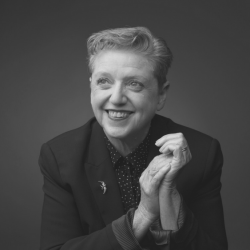 Robyn Archer is a singer, writer, director, artistic director and public advocate for the arts and is often referred to as a national treasure. A prolific artist of the highest calibre, she is known to many for her one-woman shows including A Star is Torn and Tonight Lola Blau and to thousands more for her artistic directorship of memorable arts festivals in Canberra, Melbourne, Adelaide and Tasmania.
Robyn is a renowned exponent of classic European cabaret, which won her the prestigious 2013 Helpmann Award as Australia's Best Cabaret Performer and the title of Cabaret Icon at the 2016 Adelaide Cabaret Festival.
She has recorded twelve albums and her writing includes essays, original songs, works for the theatre and children's books. She is the Australian Book Review Laureate and in demand as a speaker and writer on the arts.
Robyn has been Artistic Director of The Light in Winter, Federation Square Melbourne, since its inception in 2006. She has also held the roles of Strategic Advisor, Arts and Culture Gold Coast, Chair of the Arts Centre Gold Coast and Chair of the MFA in Cultural Leadership at NIDA.
She is the patron of numerous arts organisations across Australia and mentor for the European Festivals Association Ateliers.
Robyn is an Officer of the Order of Australia, Chevalier de l'Ordre des Arts et des Lettres (France) and Officer of the Crown (Belgium). She holds honorary doctorates from Flinders University, Griffith University and the Universities of Canberra, Sydney and Adelaide, and is an Honorary Fellow of the Australian Academy of the Humanities.
Live Performance Australia presented her with the 2017 Centanary JC Williams Award, which recognises practitioners who have made an outstanding contribution to the Australian live entertainment and performing arts industry and shaped the future of our industry for the better.