Ruth Cracknell AM 1925 – 2002
Ruth Cracknell AM 1925 – 2002
Ruth Cracknell AM 1925 – 2002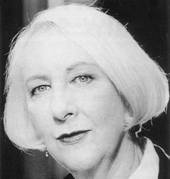 Ruth Winifred Cracknell was born on 6 July 1925 at Maitland, NSW.
Cracknell's first professional engagement came in 1945 in a radio series called Ask Anne Carter.
She made her Independent Theatre debut in January 1949 in a character part in a musical play, The Melody that Got Lost.
She was in London for two years, working in radio for the BBC.
Dame Crackers
Gordon Chater recalls working with Ruth Cracknell and Warren Mitchell in Rodney Fisher'sproduction of The Dresser in 1981: 'It was during the rehearsal period. At morning tea the conversation turned to Ruth only being with us for the Sydney and Melbourne seasons. Warren was appalled at this and started criticising Ruth, using words such as "amateur" and "insult". Ruth regally waited until Warren had exhausted his vitriol then drew her right leg back and threw it forward, sending her shoe flying the length of the very long room. It was a marvellous gesture. Rodney said, "And now we'll do Act Two".'
Ruth Winifred Cracknell was born on 6 July 1925 at Maitland, NSW. Educated at North Sydney Girls High School, she started her working life as a clerk in the offices of the Ku-ring-gai Council, but when she was 17 a friend took her to see Edna Spilsbury's Modern Theatre Players' production of George and Margaretat St James's Hall in Sydney. It was 'love at first sight' – she wanted to be an actor. She enrolled in Miss Spilsbury's classes and made her stage debut with her fellow students in a one act play in a small, forgotten suburban hall.
Cracknell's first professional engagement came in 1945 in a radio series called Ask Anne Carter. More radio work followed. In 1946 Cracknell began studying with Doris Fitton's drama school at the Independent Theatre in North Sydney. She made her Independent Theatre debut in January 1949 in a character part in a musical play, The Melody that Got Lost. She participated in John Alden's Shakespeare productions at the Independent, and remained with him when he moved his company into St James's Hall. Her ghoulish Goneril in King Lear was a particular triumph. When Alden moved out, Sydney John Kay moved his Mercury Theatre in; Cracknell appeared in a number of Mercury productions, including Arms and the Man and Strindberg's The Father. In December 1952 27-year-old Cracknell headed for England.
She was in London for two years, working in radio for the BBC. She auditioned successfully for the Old Vic Theatre Company, but family commitments forced her to return to Sydney, where she rejoined the Independent. Her performance there in Peter Ustinov's The Love of Four Colonels inspired English director Lionel Harris to cast her in the title-role in The Duenna, Julian Slade's musical version of Sheridan's play, at the Phillip Street Theatre, in which she co-starred for the first time with Gordon Chater. This was in 1955, and it was a turning point in her career: for the next four years she created a cavalcade of comic characters in a string of William Orr's Phillip Street revues – now-legendary romps such as A Cup of Tea, a Bex and a Good Lie Down, Cross Section and But I Wouldn't Want to Live There. Many years later she appeared at Orr's Music Loft in Manly in Crackers, written for her by John McKcllar, who had scripted most of her Phillip Street material.
In 1960 Cracknell appeared at the Adelaide Festival of Arts in a memorable production of Murder in the Cathedral in Bonython Hall. It marked the start of a long working partnership between Cracknell and her co-star, Ron Haddrick. In spite of her increasing busy professional life, Cracknell still made time to appear at the Independent in productions such as A Delicate Balance (1968) and The Au Pair Man(1971). Similarly, in 1973, she, Ron Haddrick, Gordon Chater and Garry McDonald appeared at the unpretentious Australian Theatre in Newtown in a miscellany called Aurora Australis.
In 1970 Cracknell and Haddrick scored a major success in Sophocles' King Oedipus. It was directed for the Old Tote in Sydney by the great Tyrone Guthrie, and toured widely. Cracknell's other Old Tote engagements included Forget-Me-Not Lane (1972), Trelawney of the Wells (1972), Arsenic and Old Lace(1973) Home (1975) and Habeus Corpus (1976). She and Haddrick were in the Old Tote's production of David Williamson's What If You Died Tomorrow? (1974); it toured Australia and played in London at the Comedy Theatre. For Nimrod Cracknell appeared in The Seagull (1974) and The Sea (1979).
In 1977 Cracknell spent some time in Adelaide, appearing for the South Australian Theatre Company in her self-devised solo show Just Ruth, as well as The Cherry Orchard and The School for Scandal. She again teamed with Haddrick in two Peter Williams productions at the Theatre Royal Sydney, Bedroom Farce (1978) and The Gin Game (1979).
In 1983 Haddrick and Cracknell played the theatrical Mr and Mrs Crummles in Richard Wherrett's superb production of David Edgar's two-part Dickens marathon, The Life and Adventures of Nicholas Nickleby for the Sydney Theatre Company. This played at the Theatre Royal in Sydney and the State Theatre in Melbourne.
After this, Cracknell appeared in a solo piece, John Upton's Machiavelli, Machiavelli, at Marian Street Theatre (1984) and All's Well That Ends Well at the York Theatre in the Seymour Centre (1986). In 1987 she provided the English-language narration for the Australian Opera's production of Cherubini's Medée at the Sydney Opera House. She also appeared in the Sydney Theatre Company's productions of Michael Hastings' Tom and Viv (1987) and David Williamson's Emerald City; Emerald City's premiere in the Sydney Opera House Drama Theatre was followed by an extensive tour that included a season at the Lyric Theatre in London.
In 1988 Cracknell created a memorable Lady Bracknell in Simon Phillips' production of The Importance of Being Earnest for the Melbourne Theatre Company. This was seen in Sydney and played further seasons at the Comedy in Melbourne in 1991 and the Theatre Royal in Sydney in 1992, with Gordon Chater joining the cast in the dual roles of Lane and Merriman. It was telecast in 1992.
In 1989 Cracknell and June Salter played in Peter Shaffer's Lettice and Lovage for the MTC and theSTC. In 1990 Cracknell was reunited with Ron Haddrick in A.R. Gurney's Love Letters for the STC. Also for the STC she toured in Beckett's Happy Days in 1991 and Neil Simon's Lost in Yonkers in 1992. In 1993 and 1994 Cracknell appeared in Adelaide and Brisbane in an adaptation of May Gibbs' Snugglepot and Cuddlepie. For the STC/MTC she appeared in Geoffrey Atherden's Hotspur in 1994 and Albee's Three Tall Women in 1995. In 1997 she played opposite Jennifer Hagen in Eileen Atkins' two-hander Vita and Virginia for the STC. In 2000 she played in STC's Collected Stories in Sydney and, later, Canberra. In 2001 she was in Peta Murray's new Australian play Salt. Earlier that year she was in the galaxy of talent for The Stars are Brightly Shining, a gala at Sydney's State Theatre to support AIDS charities.
In parallel with her remarkable stage career, Cracknell juggled film and television commitments. Her first feature film was Smiley Gets a Gun in 1958. Her last, Joey, was made in 1997. Some of the ones in between were That Lady from Peking, The Singer and the Dancer, The Night, the Prowler, The Chant of Jimmie Blacksmith, The Best of Friends, Emerald City, Spider and Rose and Lillian's Story. In the early days of television she was in the groundbreaking ABC drama series The Patriots (1962) and Playschool. She was in many more TV dramas and series, including the popular Seven Little Australians, but it was her portrayal of the engagingly senile Maggie Beare in Geoffrey Atherden's brilliant comedy series Mother and Son, in which she co-starred with Garry McDonald, that brought her her largest and most devoted audience. Premiering in 1984, it extended to 42 episodes over six series.
Ruth Cracknell wrote two volumes of autobiography, A Biased Memoir and Journey from Venice. She won many awards, including two Logies for Mother and Son, and another as Best Comedy Personality. She was a patron of STC, the Australian Theatre for Young People, the University of Western Sydney's Centrestage and the Quest for Life Foundation. She held Honorary Doctorates from the University of Sydney, the University of Technology Queensland and the University of Western Sydney. In 1980 she was made a member of the Order of Australia for services to the arts. Less formally, she was affectionately known as Crackers, Dame Crackers, Saint Ruth, and even Dame Ruth.
In 2001 Live Performance Australia presented her with its James Cassius Williamson Award in recognition of her commitment to performing arts excellence.
Ruth Cracknell died on 13 May 2002. Her daughter, actor Anna Phillips, appeared in several productions with her.
Frank Van Straten, 2007
References
Biographical
Gordon Chater: The Almost Late Gordon Chater, Bantam Books, 1996
Ruth Cracknell: A Biased Memoir, Viking, 1997
Ruth Cracknell: Journey from Venice, Penguin, 2001
Lynne Murphy: 'Ruth Cracknell AM', in Companion to Theatre in Australia, Currency Press, 1995