Slim Dusty AO MBE 1927 – 2003
Slim Dusty AO MBE 1927 – 2003
Slim Dusty AO MBE 1927 – 2003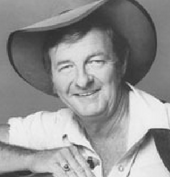 "David Gordon Kirkpatrick was born at Kempsey, New South Wales, on 13 June 1927.
While he worked on the family property, Dusty sang wherever and whenever he could."
Country Music Master
When Slim Dusty died in September 2003, Gayle Kennedy, a freelance writer and a member of the Wongaibon people of south-west NSW, paid this tribute: 'When Slim died I cried. I didn't for Elvis, or Lennon, not even a drop shed for Johnny Cash. But Slim, I cried as though my heart would break, because he really did touch my life. Even though I'd only met him and his family in the autograph-signing sessions of his Travelling Country Show, to me and the rest of my mob he was family. I don't think there's a blackfulla alive today who hasn't listened to Slim (whether you liked his music or not). My earliest memories are of Dad coming home with the latest single and playing it over and over again on the old battery-operated gramophone.
We played his music at claypan dances and family parties held deep in the scrub, the red dust swirling around us as everyone danced. We played him at weddings and celebrations for new babies born. We also played him at funerals, because there never was a relative of mine who died whose favourite song wasn't one of Slim's. Slim brought his music out to us blackfullas no matter where we were.
More importantly, he brought his family, every one of them talented. Joy was an inspiration to me. I'd had polio as a kid and Mum would always say to me, "You'll be all right. Joy McKean had it too and look where she is." They entertained us from the remotest areas to the biggest cities. His music was and is the soundtrack to many of our lives and we claim him as one of our own. Slim was red dust, claypans, saltbush, river banks, corrugated iron halls and dusty football fields. He was Mum and Dad and family. He was, is and always will mean home to me.'
David Gordon Kirkpatrick was born at Kempsey, New South Wales, on 13 June 1927. He grew up on a dairy farm at nearby Nulla Nulla Creek and was only 10 when he wrote his first song, 'The Way the Cowboy Dies'. He adopted the name 'Slim Dusty' (having briefly considered 'Buddy Bluebird') and in 1942 he made his first broadcast – on the The Gumnut Show, a children's program on 2KM Kempsey.
While he worked on the family property, Dusty sang wherever and whenever he could: in cinemas in the interval between movies, at rodeos, at community concerts and, occasionally, in the street, busking.While he worked on the family property, Dusty sang wherever and whenever he could The following year he was contracted to record for the Regal Zonophone label.
In 1951 Dusty married the country singer and songwriter Joy McKean, who had a double act withher sister, Heather. Dusty's daughter Anne was born the following year, and his son David in 1958. From 1954 Dusty made show business a full-time career. After working the country show circuit in association with the legendary showman Frank Foster, Dusty mounted his own Slim Dusty Show in which he and Joy were supported by guest artists including Chad Morgan, Johnny Ashcroft and Gordon Parsons.
On April Fools' Day 1957 Dusty recorded Parsons' 'A Pub with no Beer'. It changed Dusty's life. It invaded the rock-oriented Hit Parades and Dusty found himself in the unlikely surroundings of TV's Bandstand and Six O'Clock Rock. It was Australia's first Gold Record and it was released in Britain, the United States and Germany. After 'The Pub' many of Australia's best country music songsmiths wrote with Dusty in mind. Among them were Shorty Ranger ('Winter Winds'), Mack Cormack ('When the Moon Across the Bushland Beams'), Stan Coster ('A Fire of Gidgee Coal') and Joe Daly ('Trumby'). Dusty's first LP album was released in 1960.
In 1964 Dusty established an annual Australia-wide tour, a 48,000 kilometre, 10-month marathon, with a line-up that frequently supplemented country music fare with contributions from popular local rock performers like Johnny Devlin, Lucky Starr and Johnny Chester.
In 1969 The Slim Dusty Show visited Papua New Guinea and New Zealand, where it toured with the Hamilton County Bluegrass Band. It was during this tour that Dusty introduced his wife's song 'Lights on the Hill'. A departure from his straightforward bush ballad repertoire, it won Best Single at the inaugural Tamworth Australasian Country Music Awards and Song of the Year for McKean.
It was Australia's first Gold Record and it was released in Britain, the United States and Germany. In 1978 he made his first appearance at the Sydney Opera House; the concert was recorded and released as an LP album, The Entertainer. By this time Dusty's daughter, Anne Kirkpatrick, had developed a country music career of her own; she won Best Female Vocalist at Tamworth in 1979. The following year Dusty recorded one of his greatest hits, Pat Alexander's 'Duncan'. His 50th album was released in 1981, coinciding with the publication of his autobiography, Walk a Country Mile.
In 1984 Dusty's life and his annual Australia-wide tour were the basis for a feature film, The Slim Dusty Movie. Naturally all the Dusty clan appeared, while young Slim was portrayed by actor Jon Blake. The film included cameos from two travelling show legends, Frank Foster and Jimmy Sharman.
To celebrate Australia's Bicentennial Year, 1988, Dusty organised the biggest country show ever to tour the nation. The following year he recorded an album with his daughter, Anne. In 1993 he toured the Northern Territory as guest artist with the Aboriginal band Yothu Yindi. In 1997 he appeared at the Grand Ol' Opry in Nashville at the invitation of the Country Music Association of America. In 2000 he led a crowd of 100,000 in an emotional rendition of 'Waltzing Matilda' to close the Sydney Olympics. In 2001 he was featured on an Australia Post 'Legend' stamp and performed with fellow 'national treasures' Richard Tognetti and Roger Woodward at a National Trust dinner to honour Australia's living national treasures and to raise funds for the Trust.
Countless awards and honours continued to roll in: Father of the Year; Senior Australian of the Year; Artist of the Decade; the Australia Council's Achiever of the Year; a centrepiece exhibition at the Australian Country Music Foundation museum in Tamworth; a Special Achievement Award from the Australasian Record Industry Association; and, of course, his 100 albums won numerous Golden Guitars and gold and platinum records. He was made an Officer of the Order in Australia in 1998.
Slim Dusty died on 19 September 2003. 'He traversed generations,' said ex-Midnight Oil front man Peter Garrett. 'He crossed over musical genres with his distinctive and authentically Australian voice. In pioneering terms, first he made country a musical form that was viable in Australia – it was Australian country music; and, second, he laid some of the foundations of building and sustaining a career for all who followed, by heading out and playing to people all over the country.'
The Federal Government has committed $6 million towards a Slim Dusty Centre at Kempsey, his home town.
Frank Van Straten, 2007
References
Biographical
Slim Dusty and John Lapsley: Walk a Country Mile, Rigby, 1981
Gayle Kennedy: 'Thanks, Slim, from me and my mob', in The Sydney Morning Herald, 26 September 2003
Eric Watson: Country Music in Australia, Rodeo Publications, 1975