Stuart Challender AO 1947 – 1991
Stuart Challender AO 1947 – 1991
Stuart Challender AO 1947 – 1991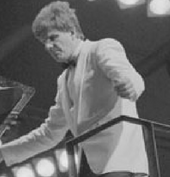 The greatest conductor that this country has produced was born in Hobart, Tasmania, on 19 February 1947.
Beethoven's Pastoral Symphony sealed his fate: he would be a conductor.
At 17 this passion took him to the Melbourne University Conservatorium.
'I liked being best at something'
'Being on stage with Stuart Challender was like being close to a flame,' said Sydney Symphony Orchestra Concert Master Donald Hazelwood at the celebration of the conductor's life at the Sydney Town Hall on 20 December 1991. 'Making music was so important to him. To convey that ideal to the orchestra, and through it, to the audience, was all-consuming. Challender had led the SSO in a golden period and had given it the impetus to continue forward and upward.' But it wasn't always easy: 'After he became chief conductor in 1987, he reorganised our performance schedules, so when he came into the rehearsal room, he felt in a position to make demands, and he did. "Please do not practise your parts at rehearsal," he would tell us.'
The greatest conductor that this country has produced was born in Hobart, Tasmania, on 19 February 1947. His passion for music did not come from his parents; his father was a football fanatic, and was disappointed when his son showed no aptitude for sport of any kind. Challender's interest in music was triggered by his grandmother, Thelma Driscoll, who used to sing to him as she pushed him around in his pram.
The turning point came when he was 13. Uncharacteristically, his father took him to a concert. Beethoven's Pastoral Symphony sealed his fate: he would be a conductor. He borrowed scores and records from the local library, learnt the piano and the clarinet, and spent every spare minute listening to classical music on the radio.
'I liked being best at something,' he reminisced. 'I wasn't very good at sport, and I was under a bit of pressure to succeed at something. So I developed a passion for music.'
At 17 this passion took him to the Melbourne University Conservatorium. The Conservatorium had no conducting course, so Challender developed his skills with local amateur music makers. From 1966 he worked with the then amateur Victorian Opera, playing in the orchestra, rehearsing the chorus and undertaking odd backstage jobs. In September 1967 he was assistant conductor for The Tales of Hoffmann at the Palais Theatre. By 1968 he had graduated from the Conservatorium and was the Victorian Opera Company's music director.
Inevitably, Challender went to Europe. 'It was like starting again,' he said.
In Hamburg and Vienna he studied with two leading teachers of conducting – Wilhelm Brückner-Rüggeberg and Franco Ferrara. From the great Romanian conductor Sergiu Celibidache he gained a love of the Romantic repertoire and a meticulous, totally committed approach to his craft. Like two of his idols, Otto Klemperer and Bruno Walter, Challender began his professional career as a répétiteur for opera; that was in 1970. His first conducting engagement was – surprisingly – Kiss Me, Kate, for the Lucerne Opera. Thankfully, La Traviata followed almost immediately! He was appointed assistant conductor at the Nuremberg State Theatre; then came engagements at Zürich and Basle, where he was resident conductor at the Opera House from 1976 to 1980. He made guest appearances in Berne, Lugarno and Gelsenkirchen.
In 1980 his great friend, American soprano Marilyn Zschau, recommended him for a temporary position with the Australian Opera. He joined the staff and in late 1980 was assigned to conduct a single performance of The Barber of Seville. Soon after he was appointed resident conductor. He went on to conduct many of the great standards of the operatic repertoire: Aida, Cosi fan Tutte, Don Giovanni, Falstaff, Die Fledermaus, The Force of Destiny, Jenfa, Macbeth, Madama Butterfly, Manon Lescaut, The Marriage of Figaro, Otello, Salome, The Tales of Hoffmann, Tosca, La Traviata, Tristan and Isolde, Il Trovatore Die Walküre and Lucia di Lammermoor – which he also conducted for Dame Joan Sutherland in her 1982 Netherlands Opera engagement.
Challender conducted the Sydney premieres of Brian Howard's operas Metamorphosis in 1983 and Whitsunday in 1988. In 1985 he went freelance, but maintained a regular relationship with the Australian Opera, conducting the world premiere of Richard Meale's Voss for the 1986 Adelaide Festival. This was recorded and telecast. Such ventures epitomised his enthusiasm for contemporary Australian music. As the artistic director of the Sydney-based Seymour Group from 1981 until 1983 he commissioned and conducted many new works by Australian composers and treated Sydney to a fully staged version of Schoenberg's Pierrot Lunaire.
He also found time to work with dance companies and youth orchestras – including a triumphant Mahler Fifth Symphony with the Sydney Youth Symphony. He started to re-establish himself in Europe and the United States, making his American debut conducting Eugene Onegin for the San Diego Opera in October 1985. Two years later, in Britain, he conducted the Royal Philharmonic, BBC Scottish and the Royal Liverpool Philharmonic orchestras.
Challender conducted the Sydney premieres of Brian Howard's operas Metamorphosis in 1983 and Whitsunday in 1988.'With reasonable luck,' wrote critic Roger Covell, 'Challender could be Australia's next major figure as an international conductor.'
In 1986 Challender was a member of a group of prominent Australian musical identities who travelled throughout Germany as guests of the West German Government's Foreign Affairs Department. With him were Musica Viva administrator Peter Burch, the Australian Opera's Moffatt Oxenbould, the Victoria State Opera's Ken Mackenzie-Forbes and Richard Divall, and tenor David Parker, representing the Canberra School of Music. 'It was a quietly satisfying return trip for Challender,' recalled Peter Burch. 'Much earlier in his career he had worked on the lowest rung of some of the opera houses he now visited as an honoured guest.'
In February 1986 Challender was appointed principal guest conductor of the Sydney Symphony Orchestra. He breathed new life into what was then a lacklustre assemblage and became its chief conductor in August the following year, succeeding Zdenek Macal. He was also made artistic director; this gave him the freedom to select players, soloists and repertoire, in the tradition of his idols, Walter and Klemperer. At the time the appointment aroused some misgivings: Challender's reputation had been made in opera, not in the concert hall. 'I'm having to learn the orchestral repertoire on the run,' he quipped, 'but you've got to begin somewhere.'
'Somewhere' was a turning point for both Challender and the orchestra. Together they reached new musical heights, especially in their interpretations of Mahler, Bruckner and Shostakovitch. And, of course, Challender continued to champion local composers: Brian Howard, Peter Sculthorpe, Richard Meale, Carl Vine and Richard Mills. Young, ambitious, brilliantly talented and – above all – Australian, Challender was an inspiration to an entire generation of local music makers.
And his achievements were duly noticed abroad. He visited the United States with the Sydney Symphony in 1988, a 12-city tour that culminated with a special concert at the United Nations General Assembly in New York to mark 200 years of white settlement in Australia. Joan Sutherland was a featured soloist. He conducted the Boston Symphony Orchestra in Hong Kong in 1989 and in 1990 conducted the Chicago Symphony Orchestra in four concerts, introducing two Australian classics, Richard Meale's Very High Kings and Percy Grainger's The Warriors. Also in 1990 he conducted a sensational concert performance of Berg's Lulu for the Australian Opera in Sydney.
Early in 1991 he conducted Dvoák's Rusalka for the English National Opera, but he returned home halfway through his engagement, tired and ill.
In March, suspecting that a Melbourne newspaper was about to 'out' him, Challender revealed that he had AIDS. He neither wanted nor expected sympathy. He told the media – and his devoted orchestra – that he hoped to continue conducting 'until I drop'. 'I don't see myself as a martyr to the cause or a crusader,' he said. 'If I had multiple sclerosis, one wouldn't be shy about announcing it to the world. But I suppose it is a good thing that a high-profile public figure has done this.'
Challender was, in fact one of the world's first leading arts figures to state publicly, while he could still work, that he had AIDS – and in doing so he made it immeasurably easier for other sufferers who were reluctant to admit, even to their families, that they had the disease.
In June, Stuart Challender conducted his last concert. Appropriately it was in Hobart, with the Tasmanian Symphony.
The Australian Opera had mounted a new production of Richard Strauss's Der Rosenkavalier for him. He had never conducted it before and he prepared the long, punishing score with all his usual thoroughness. He was determined to conduct it and he never missed a rehearsal.
On the first night in the Sydney Opera House on 2 September he led a ravishing, glowing performance that was rewarded with an instant standing ovation 'that had the force of a tempest'. He struggled through three more performances, and then travelled to Melbourne to see his dear friend Marilyn Zschau in the Victoria State Opera's Elektra, conducted by Richard Divall. 'Although his body was emaciated, his spirit was indomitable,' recalled Divall. 'His dignity was immense and his eyes shone with fire. Twice he told me that it would be the last time that we would meet. He would never have wanted to cause pain, but I admit now that I retired to my own dressing room and wept.'
Challender's last few months were chronicled in The Big Finish, a moving, insightful ABC TV Four Corners program created by his friend David Marr. As Challender had wished, it was dedicated to his grandmother, who had been the inspiration for his musical journey. In the program she told Marr that she would gladly have given her life if somehow it could have saved her grandson's.
Stuart David Challender died in a Sydney AIDS hospice on 13 December 1991. He was 44. Challender was made an Officer of the Order of Australia a few months before his death and, posthumously, the annual 'Mo' Awards named him Australian Performer of the Year.
At the Sydney Town Hall on 20 December Justice Michael Kirby led the speakers at a celebration of Challender's life, and Peter Sculthorpe's cello piece Stuart Challender in Memoriam was heard for the first time. There was a commemorative concert at the Opera House on 10 May 1992.
In his will, Challender provided for the establishment of the Stuart Challender Foundation, to aid the training and development of future Australian conductors. He bequeathed his extensive collection of scores to the Music Library at the University of Tasmania.
Frank Van Straten, 2007
Related Links
References
Biographical
Peter Burch: 'A man of immense personal and musical integrity', in Opera Australia, February 1992
Peter Cochrane: 'Final applause for a man who liked a good gig', in The Sydney Morning Herald, 21 December 1991
Anthony Fogg: 'Stuart Challender' – notes accompanying ABC Classics CD 434778
Marianne Rigby: 'Stuart Challender', in The Oxford Companion to Australian Music, Oxford University Press, 1997
Phillip Sametz: Play On! – Sixty Years of Music Making with the Sydney Symphony Orchestra, ABC Books, 1992
Michael Shmith: 'Music poorer for Challender's death,' in The Age, 14 December 1991
Media
Stuart Challender conducting