William Saurin Lyster 1828 – 1880
William Saurin Lyster 1828 – 1880
William Saurin Lyster 1828 – 1880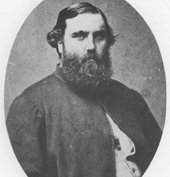 William Saurin Lyster was an Irishman, the son of an army captain. He was born in Dublin on 21 March 1828.
In September 1854 he appeared in The Wonder: a Woman Keeps a Secret, the opening attraction at the new Boston Theatre.
The grand opera man
In 1878 the usually acerbic Melbourne critic J.F. Neild described the operatic impresario William Saurin Lyster as 'part of the musical history of the colony… and when this record shall be set forth, he will occupy a principal place in it.'
There are many reasons to remember the year 1861. In the United States, Lincoln became president, the first shots of the Civil War were fired, and the notorious Lola Montez died in poverty in New York; in Britain, Queen Victoria mourned the death of her consort, Prince Albert; in France, cinema pioneer Georges Méliès was born; and, in Australia, Robert O'Hara Burke perished in the desert, Charles Sturt set out to cross the country from south to north, the first bridge over the Murray was built, gold was found in Forbes, Archer won the first Melbourne Cup, we welcomed the first visiting English cricket team, and Nellie Melba was born. And, at the Theatre Royal in Melbourne on 25 March, the curtain rose on Lucia di Lammermoor. It was the Australian debut of William Saurin Lyster's Royal English and Italian Opera Company, and it marked the start of the two decades in which this tall, bearded, charismatic Irishman dominated opera in the Australian colonies and in New Zealand.
Tall, dark, splendidly bearded and charismatic, William Saurin Lyster was an Irishman, the son of an army captain. He was born in Dublin on 21 March 1828. Weakened from a severe illness, he was still in his teens when his parents sent him off on a whaling boat to regain his health. It was during this voyage, in 1842, that he first visited Melbourne, then a fledgling settlement just seven years old. He returned to Dublin, only to set forth, at age 18, to become an indigo planter in India. Next he tried his luck in South Africa, fighting as a volunteer in the Kaffir war.
In 1848 he sailed for America with two of his brothers, Frederick and Mark; Mark fell overboard and drowned, and Frederick made his New York stage debut singing in Fra Diavolo. William, seeking something more adventurous, went to Nicaragua, where he and a group of mercenaries were successful in overthrowing the government, at least temporarily. His next job was similarly adventurous, though slightly less dangerous: he became an actor. In September 1854 he appeared in The Wonder: a Woman Keeps a Secret, the opening attraction at the new Boston Theatre. In 1857 William and Frederick formed a touring opera company. Frederick was conductor and his wife, Rosalie Durand, was one of the sopranos; another member of the company was mezzo Georgia (or sometimes Georgina) Hodson, a sister of London actress Fanny Hodson.
Lyster's company played in New Orleans in 1857, Chicago in 1858 and San Francisco in 1859. With the Civil War looming, they decided to take the company – now including soprano Lucy Escott and tenor Henry Squires – to the newly gold-rich colony of Victoria. They sailed with a full complement of soloists, chorus and orchestra, and a repertoire of 30 operas. On 25 March 1861 William Saurin Lyster's Royal English and Italian Opera Company presented Lucia di Lammermoor at the Theatre Royal in Melbourne – and so started the two decades in which this energetic, often fiery, but totally dedicated man dominated opera in the Australian colonies and in New Zealand.
Though his initial Melbourne season lost money, Lyster persevered, and soon his fortunes changed. What he had planned as a brief colonial foray extended to a six-year stay; his company toured widely, visiting every major Australian city and venturing to New Zealand. Lyster's repertoire of established favourites was continually expanded. His production of Les Huguenots, in November 1862 – its Australian premiere – was regarded as the most impressive theatrical presentation so far seen in the colonies. Other operas he introduced to Australians during this period included Lurline, Don Giovanni, I Puritani, The Lily of Killarney, Faust, Le Prophète, Oberon, Semiramide, L'Africaine, William Tell and A Masked Ball – sometimes within months of their European premieres. Through the years Lyster's roster of singers remained largely intact, though a notable addition was Armes Beaumont, a fine Australian tenor.
Lyster invested some of his considerable profits in 162 hectares of attractive farming land along the Monbulk Creek in the foothills of the Dandenong Ranges, outside Melbourne. Later Lyster purchased a further 486 hectares. He called his estate 'Narree Worron Grange' (from the Aboriginal Narree Nareen, meaning 'small hills') and he dilligently transformed it into an extremely profitable showcase of modern farming practice. When he employed a group of Aborigines to drain a swampy area known as The Flats and re-route the creek, sceptical neighbours ridiculed what they called Lyster's Folly, but when they saw the fertile black soil that resulted, they followed his lead. Lyster grew vegetables, cereals and rich pasture for his prize dairy herd.
Lyster extended the property's original wattle and daub cottage into a rambling, comfortable home. Members of his company enjoyed his hospitality – all except Armes Beaumont: Lyster accidentally peppered his face with gunshot during a hunting expedition in 1867. The unfortunate tenor lost the sight in one eye and most of the sight in the other. This severely limited his career in opera, though he was able to undertake concert engagements and became a respected teacher.
In 1868 Lyster made a disastrous decision: he left his farm in the hands of Georgia Hodson's daughter, Georgina, and her husband, George Dickson, and sailed with his company back to the United States. Their principal basso, D'Antoni, died during the voyage, and their San Francisco 'homecoming' season was such a financial disaster that Lyster was forced to disband the troupe. His brother Frederick went his own way with his new wife, the Australian actress and singer Minnie Walton (Frederick's first wife, soprano Rosalie Durand had died in Sydney). Frederick became manager of the California Theatre in San Francisco, for whose stock company he recruited, in 1872, a young engaged couple, James Cassius Williamson and Maggie Moore. William Lyster, meanwhile, had finally married his soprano, Georgia Hodson (they had been living as man and wife for some years).
But Lyster was far from finished. He returned to Melbourne and persuaded a somewhat more affluent entrepreneur, John W. Smith, to join him in a new colonial operatic adventure. Lyster travelled to Britain and then to Italy, recruiting singers with the help of the Australian contralto Lucy Chambers. In effect he created two companies – one to perform the Italian repertoire in Italian and the other to perform French, German and English operas in English.
Lyster's new enterprise – the Lyster Smith Opera Company – debuted with Verdi's Ernani at the Theatre Royal in Melbourne on 5 February 1870; he gave another Verdi work, I Vespri Siciliani, its Australian premiere a few months later. After a year of mixed fortunes most of the Italian singers returned home. Lyster boldly reorganised his company, leased the dilapidated old Princess in Melbourne for three years from George Coppin, and opened there on 27 February 1871 with the Australian premiere of Offenbach's cheeky romp The Grand Duchess of Gérolstein, with Fanny Simonsen, Armes Beaumont and Edward Farley. It was a sensation, and ran initially for 15 consecutive performances. Despite the sauciness inherent in Offenbach's operettas – or more probably because of it – they were immensely popular in Australia, and became a money-spinning staple of Lyster's repertoire. The following year he introduced Orpheus in the Underworld and Bluebeard.
After more successes the new company moved to Sydney; their place at the Princess was takenby a major visiting Italian troupe directed by Augusto Cagli, appearing under Lyster's astute management.
In 1873 Lyster set up a new company to acquire and operate the recently-completed Prince of Wales Opera House in Bourke Street, Melbourne. The company purchased his scenery, costumes and scores, and employed him as manager. Cagli recruited more singers in Italy and, again, Lyster alternated Italian repertoire – which he preferred – with more profitable seasons of opera sung in English. By September 1874 he was juggling an Italian company in Adelaide, an English company in Sandhurst (Bendigo), arranging concerts by visiting artists in the Melbourne Town Hall and planning a Christmas pantomime.
In 1877 Lyster presented the first Wagner opera ever staged in Australia – Lohengrin – and also premiered Verdi's Aida. La Forza del Destino followed in 1878 and Carmen in 1879. By then Lyster's health was failing and he decided that an overseas trip would be beneficial. During his travels he was offered the Australian rights to HMS Pinafore, Gilbert and Sullivan's sensational new light opera. Perhaps because a San Francisco production of it by his brother Frederick had not been a success, he turned it down.
Though the trip helped restore some of Lyster's customary vigour, he announced his intention to retire to his Narree Worron estate. His exit was speeded by a notorious incident in the dress circle of the Melbourne Opera House during a performance of Les Huguenots on 24 July 1880. A Frenchman, Louis Saudry, confronted John Greer and his wife. The three were in Melbourne for the International Exhibition, and had met on the voyage from England – during which Saudry and Mrs Greer had conducted a none-too-secret 'affair'. Greer drew his pistol, wounded his wife and Saudry, and then killed himself. The audience, naturally, panicked, but no-one else was seriously hurt. The incident did nothing to assist Lyster's health.
William Saurin Lyster was denied the retirement he sought: he died in Melbourne on 27 November 1880. The Argus paid tribute to 'a manager who valued public approbation and his own good name more than money.'
Lyster's company folded soon after his death. There would of course be many opera companies in the future, but it would not be until the 1950s that there was another permanent organisation bringing opera to audiences across the nation.
Lyster had no children, yet his legacy was remarkable. He left an appreciation for opera and memories of innumerable world-standard performances, including dozens of local premieres. His ranks included many artists who later made significant contributions both here and overseas. A representative roll call would include 'The Tasmanian Nightingale', Amy Sherwin, who sang Lucia for Lyster in 1878 and achieved stardom in the United States and Europe; Howard Vernon, who became ubiquitously associated with the Savoy repertoire; Nellie Stewart, who was only 14 when she appeared in Lyster's Orpheus in the Underworld in 1872, little realising she would become the nation's favourite actress; George Johnson, who passed on his vocal talents to his daughter, Gertrude Johnson, founder of the Australian National Theatre Movement; Fannie and Martin Simonsen's daughter had a starry international career as soprano Frances Saville, and their grand-daughter, the brilliant Frances Alda, not only became the New York Met's leading soprano, she married its director, Giulio Gatti-Casazza; conductor Alberto Zelman, who, with his son, Albert, led music making in Melbourne for decades; and Pietro Cecchi, who became Melba's first teacher.
And there were the Musgrove brothers, George and Harry, sons of Lyster's sister-in-law, actress Fanny Musgrove, née Hodson. The Musgroves inherited the bold entrepreneurial model that Lyster established: major companies touring the continent, rather than a company firmly anchored to a particular theatre in a particular city. George Musgrove's theatrical career started with a job in Lyster's box office. He became a powerful entrepreneur, especially of opera, and he worked for a time in liaison with J.C. Williamson; he had a long, loving relationship with Nellie Stewart. Harry Musgrove was only 16 when he began his working life with Lyster. Later he had a series of important managerial roles with Williamson's. His son, Harry G. Musgrove ran the Tivoli Circuit during the 1920s.
And what of Lyster's beloved Narree Worron Grange? In 1874 he donated two acres on Wellington Road for the establishment of a local school. It was named Lysterfield in his honour; the name now to applies to the whole district. Around 1890 Georgia, Lyster's widow, sold the remaining land for subdivision. The old homestead, whose music room had hollow panels to provide resonance, was demolished in the early 1980s. With it went the ornamental lake, the croquet lawn and the extensive gardens, but the name Narree Warron, adjusted to Narre Warren, lives on as the name of a nearby suburb.
Frank Van Straten, 2007
Related Links
References
Biographical
Alison Gyger: Civilising the Colonies, Pellinor, 1999
Harold Love: James Edward Neild, Melbourne University Press, 1989
Harold Love: The Golden Age of Opera in Australia, Currency Press, 1981
Sally O'Neill, Thérèse Radic: 'William Saurin Lyster', in Australian Dictionary of Biography, volume 5, Melbourne University Press